Holiday Savings!
Exclusive Apartment Offers at Mockingbird Lane Plaza
Celebrate the season with unbeatable savings at Mockingbird Lane Plaza! Secure your new home by leasing and paying your deposit before December 31, 2023, and enjoy $500 OFF your first month's rent. This special offer is exclusively available for our two-bedroom, two-bath floor plan and is open to new applicants on a 12-month lease term.
Contact our Leasing Office today for details. Valid for a limited time. Offers are subject to change at any time.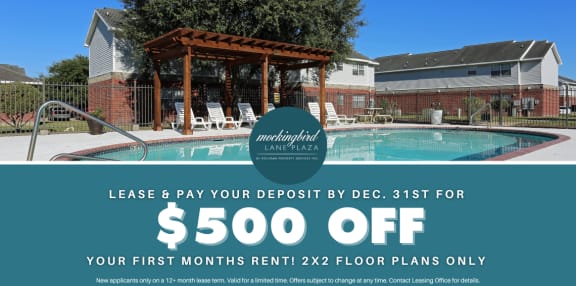 Featured Floor Plans
Affordable Two-Bedroom Apartments
Discover your ideal living space at Mockingbird Lane Plaza in Victoria, Texas, where our two-bedroom, two-bath units take center stage. These affordable floor plans are thoughtfully designed to cater to your lifestyle needs. With open-concept layouts, they offer ample room for daily living, and the kitchens are equipped with dedicated dining areas and energy-efficient appliances.
Spacious Living Areas
In our apartments, spacious living areas provide a sense of comfort and style, allowing residents to relax and entertain with ease. Whether you're unwinding after a long day or hosting gatherings with friends and family, our generously sized living spaces offer the versatility and room to make your apartment truly feel like home. With ample square footage and well-designed layouts, you'll have all the space you need to personalize your living area to suit your unique lifestyle.
Fully Equipped Kitchens
Our apartments boast fully-equipped kitchens that are a culinary enthusiast's dream. With preferred appliances, generously sized pantries, double sinks, and spacious countertops, you'll have everything you need to whip up delicious meals and craft culinary creations. Plus, dedicated dining areas provide the perfect setting for enjoying company and making every meal a special occasion.